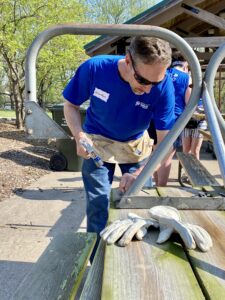 Kaukauna Utilities invests more than meters, poles and cable in the community. Our civic pride and commitment to excellent customer service extends to making the communities we serve a better place to live and work.
Since 1912, Kaukauna Utilities has seen the community flourish. We're proud to have supplied the electric power and water that has helped to make this growth possible. We're equally proud that the volunteer efforts of our employees and the utility have contributed to the development, growth and well being of our great local community.
The cornerstone of a not-for-profit, community owned and operated utility is "local people working together to meet local needs" – that's just where the benefits to the community start.
Being part of the community we serve is a role that Kaukauna Utilities takes seriously. As a utility, we work hard to be an active participant by lending a hand in community service projects. We have pledged a strong commitment to, not only our customers, but to our community. Through a number of civic-minded activities, Kaukauna Utilities has fostered strong relationships that help further our connection to the community.
We also support a large and varied number of community organizations through contributions that will help meet a need in the community.
Scholarships
Kaukauna Utilities is proud to help in the educational efforts of our community's youth. Through this scholarship program, we have helped numerous local students with their continuing education. This year, Kaukauna Utilities awarded three continuing education scholarships to local high school seniors. Learn more here.