Increasing numbers of people are discovering the benefits of driving electric vehicles including,  reduced gasoline use, lower fuel costs as electricity is less expensive per mile driven than gasoline or diesel fuel and reduced air emissions just to mention a few.
Ease of Ownership
There is a common misconception that by owning a plug-in electric vehicle, a driver must give up something in order to save money, help the local economy, and be more environmentally friendly. This is not the case.
The operation of a plug-in electric vehicle is a seamless transition from a traditional internal combustion engine vehicle, and is actually an improvement. Plug-in electric vehicles have tremendous performance, an essential element of owning a plug-in electric vehicle that is often overlooked when addressing the benefits.
EV drivers also have the luxury of charging at home, as opposed to making stops at a gas station.
Lower Fuel and Maintenance Costs
Fueling a plug-in electric vehicle is lower than a traditional internal combustion vehicle and the maintenance costs are significantly lower as well.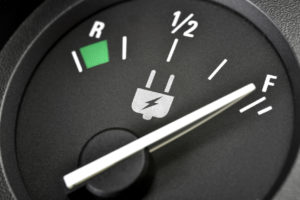 An EV has a small fraction of the number of moving parts in comparison to an internal combustion engine vehicle. The fewer parts there are in the vehicle, the less maintenance.
The only routine maintenance required on a plug-in electric vehicle is the occasional tire rotation. It requires no oil changes, transmission fluid, belts and hoses being replaced, for example.
Environmentally Friendly
You are doing the environment a favor by driving a plug-in electric vehicle. Plug-in electric vehicles are the only vehicles that are a clean source of transportation.
Kaukauna Utilities continues to exceed 30% of their energy portfolio from renewable energy, so you can be assured that by driving electric, you will greatly reduce emissions. How? As the electric grid continues to get cleaner and utilize more clean energy, emissions reductions increase when clean energy replaces gasoline and diesel in your car.
Click here for more detailed information
Where can I recharge my EV?
Kaukauna Utilities offers free public charging stations at (4) locations
Kaukauna Utilities
Kaukauna Fire Department,
Kaukauna Municipal Building
Hydro Park in Kaukauna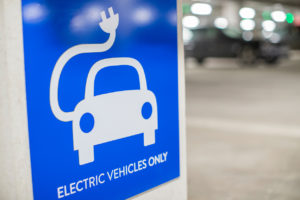 KU EV Charger Incentives
Residential
Level II EV Charger rebate through Kaukauna Utilities
Level II charging requires a 240-volt outlet and a home charging system. A licensed electrician can tell you if your home is charging station ready.
Kaukauna Utilities offers up to $400 if you install a Level 2 wi-fi capable charger at your home address
You may need additional wiring to install a dedicated circuit and 240-volt outlet.
Depending where you live, an electrical permit and inspection may be necessary for the electrical work.
For questions please call Steve Engebos, our Energy Services Manager at (920) 462-0251.
EV Level II charger application
Business
Level II or higher EV Charger rebates available through Kaukauna Utilities
Kaukauna Utilities offers up to $1,000 if you install an Energy Star Level 2 charger at your workplace, retail, multifamily, or business
Must be an EV Level II charger in new construction or existing parking areas.
For questions please call Energy Services at (920) 462-0251.
If you live in an apartment or condominium complex, please talk with your landlord or property management company about your options for a home charging station.
EV Models Eligible for Federal Tax Credits
EV Model Comparison – Wondering what EV is right for you and don't know where to start your search? Check out one of the below comparison tools.
EV Compare – Compare current models of EVs by features, price, and driving range.
US Department of Energy – The Office of Energy Efficiency and Renewable Energy's online tool sorts available EV models by year, make, market class and electric range.