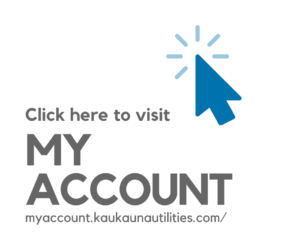 Tracking your energy use, paying your bill, and managing your account has never been easier.
With our customized MyAccount online tool, you can now…
View current and past bills
Pay your bill online
View payment history
View usage history
Sign up for Auto-Pay
Sign up for e-Billing
Create your account in a couple simple steps:
Click "Create an Account". Be sure to use your correct account number exactly as it appears on your monthly utility bill (include dashes).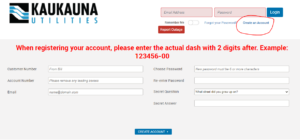 After you have created your account and are logged in, you will see a dashboard with four options. Select from options to pay your bill, view your energy (and water) usage, see your payment history, and manage your services. Through MyAccount, paperless billing and Autopay is offered, and can be accessed through the Pay My Bill dashboard.
Have further questions about MyAccount? Check out this FAQ page for help or call our Customer Service/Billing Department at (920) 462-0234.
How-to videos:
Create an Account – Follow along with this video to set up your account.
Update Contact Information – Check out this video for steps to make sure your contact information is up-to-date. Having updated contact information in our system has many advantages, including notification of planned electric or water outages at your service address, meter exchanges, possible promotional offers, and more!
Enroll in Paperless Billing – Follow this video tutorial for step-by-step instructions on signing up for paperless billing. It's super easy and you are able to add multiple email addresses for notification!