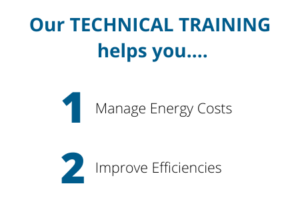 Kaukauna Utilities offers training to utility customers, business owners, facility managers, contractors and other trade allies to help manage energy costs and improve efficiencies.  Through these educational opportunities, participants will learn to identify and implement energy efficiency projects, explore energy related system applications, and expand knowledge of emerging technologies and best practices. The training opportunities strive to help business customers and their partners make informed decisions and provide practical guidance for investing in energy-related projects
Other Training Resources
Slipstream
Slipstream is an independent non-profit organization out of Madison, WI that delivers live training, online courses, and conferences each year for a variety of energy efficient partners, clients, and audiences. They also maintain an online catalog of publications, webinars and videos.
Click here for information on many energy efficiency topics
Focus on Energy
Wisconsin's energy efficiency and renewable resource program, Focus on Energy, offers a variety of courses on topics including efficiency technologies, strategic energy management, building operator certification, as well as technical training to further subject matter knowledge.
Click here to check out upcoming training classes from Focus on Energy.
For more information on technical training, contact Steve Engebos, Energy Services Manager at (920) 462-0251.