Whether you simply want to learn the benefits of adding solar to your home or if you are ready to make a solar system investment, it's often difficult to know how to begin. We provide you with unbiased, factual information to help you no matter what stage of the process you are in.
Solar options
In order to determine if adding solar to your home is the right decision for your unique situation, be sure to do your homework and identify all of your solar options. If you are considering installing a solar photovoltaic (PV) system at your home, please contact Steve Engebos our Energy Services Manager at 920-462-0251 to learn about available programs, requirements to interconnect to the utility, and review any contractor's proposals- at No cost to you.  Verifying that your proposals accurately reflect your utility rate, estimated solar generation, and calculated payback is important for you to make the best decision to meet your goals.  We are here to help.
Basic questions to consider before you begin:
What is my goal for installing solar?
How much of my annual energy use do I want to offset?
Should I go with a ground or roof mounted system?
Do I want a solar electric or solar thermal (hot water) system?
Will my solar system receive shading during select parts of the day or at certain times of the year?
What solar installation companies work in our area?
Getting Started
Once you decide to invest in PV Solar at your home, follow these steps below to ensure you get a correctly installed PV solar system.
Contact Kaukauna Utilities; Let us know when you begin construction of your solar project so that we can ensure the bi-directional meter is installed and we can provide you with any needed assistance.
Contact local solar installation contractors; Get quotes and compare the total costs and payback periods of different systems and installers.
Complete required Public Service Commission documents; Complete the Distributed Generation Application and form 6029 prior to installation (scroll down under DG application forms).
Obtain local permits; Make sure your contractor contacts your local government permitting office to submit the necessary paperwork and have a structural analysis performed for any roof-mounted application.
 Installation and inspection; Upon final installation of your solar system, have a final inspection by the utility/and or local building inspector.
Selecting a Solar Contractor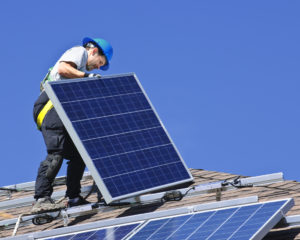 One of the most important steps to a successful solar energy system is finding the right contractor you can trust to do the job right. Here are some helpful resources and tips to point you in the right direction for selecting your contractor.
Solar Energy Industries Association provides information on Wisconsin solar installers, contractors and retailers.
RENEW Wisconsin, a renewable energy advocacy group, offers a map of Wisconsin solar installers to help find quality companies nearby.
Focus on Energy's Find a Trade Ally tool lets you search for qualified contractors based on service and location.
The Better Business Bureau lets you research companies to see if they are the subject of complaints filed with the BBB.
HomeAdvisor.com lets you gather price quotes from service companies that work with HomeAdvisor.
Tips for hiring a contractor
Hire only a WI state-licensed contractor with a valid license. Consider installers with North American Board of Certified Energy Practitioners (NABCEP) certification.
Research current solar panel costs in Wisconsin   Click here
Get at least three bids or quotes.
Get at least three references from each bidder and be sure to call or visit each reference.
Confirm the contractor carries worker's compensation and liability insurance policies.
Verify that the contractor understands Kaukauna Utilities electrical distribution system interconnection requirements.
Get all project expectations in writing including the solar system's expected annual output.
Ensure that the contractor obtains a local building permit.
Make sure Kaukauna Utilities approves the solar PV system for interconnection to our electrical distribution system before you sign off on the project.
Kaukauna Utilities does not endorse any contractors or warrant any workmanship, installation, labor, cost or materials of any contractor. We also do not work directly with any solar contractors.
Savings Calculators
Visit the resources below to find out estimated energy production and simple payback.
energysage; Solar panel calculator to quickly estimate your solar potential and savings by address. Estimates are based on your roof, electricity bill, and actual offers in your area.
solar-estimate.org; Web-based solar cost and savings estimator that gives a rough idea of the solar potential of your home before deciding if you want to talk to a solar company.
Project Sunroof; Your own personalized solar savings estimator, powered by Google Earth imagery.
If you have questions, please contact Steve Engebos our Energy Services Manager at (920) 462 0251 or sengebos@wppienergy.org
Current Incentives and Tax Credits
Visit the resources below to find out what available incentives you may be eligible for.
DG Application Forms
Download and complete the forms below. Send all completed forms to Kaukauna Utilities prior to starting your  project. Forms can be emailed to our Energy Services Manager – sengebos@wppienergy.org.
PV Solar projects in the area
Kaukauna Utilities Warehouse
79.6 kw fixed roof mounted panels
9,460 kWh per year
Installed by Kaukauna Utilities
Kaukauna Fire Dept
90.6 kw roof ballasted panels
10,600 kWh per year
Installed by Kaukauna Utilities
Kaukauna Municipal Building
80.6 kw roof ballasted panels
9,600 kWh per year
Installed by Kaukauna Utilities
Kaukauna 1000 Islands Environmental Center
5.7 kW fixed panels
6,930 kWh per year
Kaukauna High School
4.9 kW fixed panels
5,970 kWh per year
Kaukauna Utilities office
2.88 kW dual-axis tracker
4,700 kWh per year
Little Chute Middle School
5.33 kW fixed panels
6,150 kWh per year