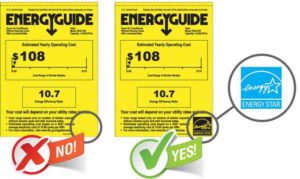 The key to saving energy is through conservation.  New energy efficient appliances are one way to help conserve energy and save money.
When purchasing a new appliance, take a look at the Energy Guide to ensure the appliance has an ENERGY STAR label on the bottom right of the Guide.  The Energy Guide also has useful energy usage information about the appliance you are considering.  Download the "KU Energy Guide label info 2019"  to better understand all the information that is provided on the guide.
If the appliance you are considering has the Blue ENERGY STAR logo, you can be assured it is 20% – 30% more efficient than an appliance without the ENERGY STAR label and qualifies for a rebate incentive.
Kaukauna Utilities is embarking on a conservation plan to assist you in reducing your energy consumption, providing the following incentives help to encourage the purchase of energy saving appliances. Just look for the ENERGY STAR logo.
Clothes washer
Clothes dryer
Refrigerator
Freezer
Dehumidifier
Dishwasher
Room air conditioner > 10 EER
Please print the application, complete it, and mail to:
Kaukauna Utilities ENERGY STAR Application (Printable PDF)
Kaukauna Utilities ENERGY STAR Application (Online Form)
Kaukauna Utilities
PO Box 1777
Kaukauna, WI 54130
Questions? Need more information? Call us at 462-0251.