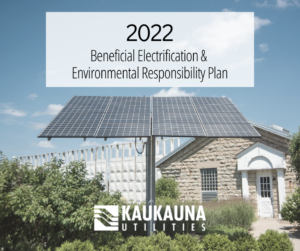 Kaukauna Utilities strives to be a catalyst in the utility industry. It is our responsibility to promote wise use of resources and find new ways to preserve and improve the environment we all live and work in while continuing our commitment to provide safe, reliable, clean, sustainable energy at competitive rates.
Key initiatives will focus on:
Beneficial Electrification – Encourage the transition towards clean electricity generation and utilization with zero emissions. Implementation will save consumers money, create more resilient and reliable infrastructure, and reduce our carbon footprint.
Awareness – Educate and support all internal and external stakeholders as we advocate for the benefits of a clean energy future.
Sustainability – Promote environmentally responsible initiatives, including recycling, composting, community environmental activities, and other sustainability practices.
Maximizing Efficiencies – Endorse efficient use of energy and water resources in ways that help improve our customers' experience and promote responsible use for the benefit of generations to come.
Click the image to the right for a story map of the full Beneficial Electrification and Environmental Responsibility Plan, or click here to download a pdf of the full report.