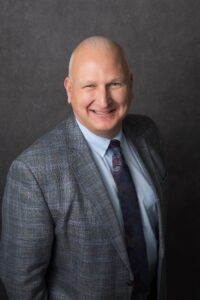 Kaukauna Utilities, the community's locally owned, not-for-profit municipal electric utility, participated in the WPPI Energy Annual Meeting on Sept. 15, 2022, in Middleton, Wis. The utility is a member-owner of WPPI Energy, a not-for-profit wholesale energy provider and joint action agency.
Welcomed into the WPPI Joint Action Hall of Fame this year was Jeff Feldt, who recently retired after two decades as general manager of Kaukauna Utilities and the last ten as chair of the WPPI Energy Board of Directors.
"WPPI owes its success to the women and men who dedicated their time and efforts building it into the organization it is today," stated Jim Stawicki, WPPI Energy board chair and general manager of Sturgeon Bay Utilities. "The highest honor given in recognizing these extraordinary individuals is induction into the Joint Action Hall of Fame."
During his time with WPPI Energy, not only was Feldt board chair for ten years, but he was on the board of directors for twenty years. He also served on several additional committees and advisory groups, including treasurer and chair of the finance committee, vice chair and chair of the personnel committee, chair of the policy and communications leadership council, vice chair of the energy services advisory group, chair of the community relations advisory group, and on the benefit plan trust board.
Stawicki noted, "As WPPI Energy board chair, Jeff provided focused, insightful leadership and an unwavering commitment to the well-being and shared purpose of our 51 member utilities. He led by example, and his dedicated support for our joint action agency has been greatly appreciated among the women and men who work every day to keep it running. There is no question that Jeff has earned, and continues to maintain, the appreciation of his peers and colleagues. His contributions have strengthened our board, our membership, and the ability of the WPPI staff to help ensure that we are well-positioned for the future."
One of the largest projects to take place during Feldt's time was the joint action agency's commissioning of the Point Beach Solar Energy Center, which came online during Feldt's last year as board chair. The Point Beach Solar Energy Center features more than 315,000 photovoltaic solar panels that convert the sun's energy into electricity. The solar energy center has a capacity to generate 100 megawatts of electricity. The energy will serve WPPI Energy member communities under a 20-year power purchase agreement and keeps WPPI Energy on track for approximately a 45% reduction in carbon dioxide emissions by 2025 when compared to 2005.
Locally, Feldt remained equally as invested in his community. Earlier this year, he received the American Public Power Association's Mark Crisson Leadership and Managerial Excellence Award. The award recognizes managers at any level of a public power utility, joint action agency, or state or regional association who bring their organizations to new levels of excellence, lead by example, and inspire their employees and staff to improve processes, services, and operations.
"As a WPPI longtime leader, Jeff Feldt contributed significantly to public power and joint action over the years," Stawicki concluded. "His dedication is appreciated and recognized as the membership welcomes him into the Joint Action Hall of Fame."