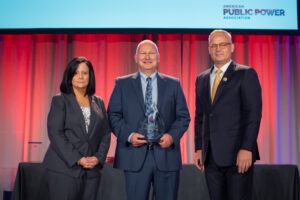 Jeff Feldt, general manager at Kaukauna Utilities (KU), received the Mark Crisson Leadership and Managerial Excellence Award during the American Public Power Association's National Conference in Orlando, Florida on June 22, 2021. The award recognizes managers at a utility for steering the organization to new levels of excellence, leading by example, and inspiring staff to do their best.
"I have worked alongside Jeff since we hired him in 2002, and serving as president during most of that time gives me a unique perspective and appreciation for all of Jeff's efforts and accomplishments," stated Lee Meyerhofer, commission president. "One of the traits I admire most about Jeff is how he fosters an environment in which employees are also friends and neighbors, living and working together in the community."
During Feldt's time as general manager, KU began monitoring customer satisfaction through feedback forms and surveys, building on the utility's already high customer satisfaction rate. The utility also increased environmental efforts with the addition of solar and wind projects in the community, and is a regular supporter of local organizations and initiatives.
For Kaukauna, locally generated hydroelectricity continues to be a significant, reliable, emissions-free power source. One milestone achievement was the completion of a highly visible rebuild of the century-old Badger Hydro generating station in 2014, which went into commercial operation after an 18-month construction period. The unit now generates approximately 7.5 megawatts of power – enough to serve about 5,600 homes. The addition of the plant significantly increased the overall hydro production to serve 36% of KU's customer load in 2020. The $38 million project was completed on time, on budget and with zero injuries.
Feldt is also board chair of WPPI Energy, a position he has held for the past decade. WPPI Energy is a not-for-profit, wholesale power provider of which KU is a member-owner. Mike Peters, president and CEO of WPPI Energy, said, "Jeff has the respect of his peers and colleagues, and the leadership skills to work effectively with the WPPI Board and staff to ensure that our 51 member utilities are well positioned for the future."
Feldt will retire this fall after 19 years at KU, 30 years in public power, and 40 years in the electric industry.