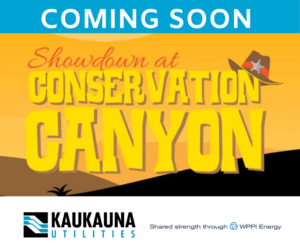 We are pleased to sponsor, with the help of our wholesale power provider WPPI Energy, the National Theatre for Children's (NTC) production of "Showdown at Conservation Canyon." Professional actors from NTC will bring the story of Sheriff Carrie Gooper to life during a 25-minute play. With the help of student volunteers, as well as colorful characters like notorious outlaw Ron of the Cons, Carrie sets off to learn about energy and electricity and restore peace to Dodge Ball City.
National Theatre for Children (NTC) is an award-winning educational program that uses storytelling to put a fresh spin on learning, and we're proud to offer this resource at no cost to our local schools.
Performances of "Showdown at Conservation Canyon" are scheduled for:
March 5th – Little Chute Elementary School
May 1st – St. Ignatius School – Kaukauna
May 1st – Park Community Charter School – Kaukauna
May 4th – Victor Haen Elementary School – Kaukauna
May 4th – Trinity Lutheran School – Kaukauna
Stay tuned to our Facebook page for more updates about this production. For more information, contact Brittany Simonson, Communications Coordinator at 920.419.6192.