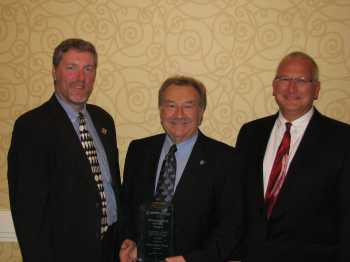 MIDDLETON, WIS., SEPTEMBER 16 – WPPI Energy, Kaukauna Utilities' nonprofit power supplier, recognized Mayor Gene Rosin of Kaukauna for his extraordinary contributions as a public power industry leader and for his efforts to benefit municipal electric utility customers. WPPI Energy presented Mayor Rosin with the Distinguished Service Award at its annual meeting on September 15 in Middleton.
Mayor Rosin has more than 22 years of dedicated public service to the citizens of Kaukauna. He served as alderman for 16 years before being elected as Kaukauna's mayor, a role he has held for the last six years. During his time as alderman, Mayor Rosin also served as council president for 13 years. He is also a member of the Kaukauna Utilities Commission.
Throughout his many years of service, Mayor Rosin has publicly supported the legislative and public policy efforts of Kaukauna Utilities, WPPI Energy and public power in general while building grassroots support for policies that benefit all WPPI Energy members and their customers. Mayor Rosin regularly attends WPPI Energy annual meetings and has participated in countless efforts to help Kaukauna and the local utility through his involvement in the American Public Power Association's Legislative Rally. Over a 22 year public service career, Mayor Rosin has worked hard to forge strong working relationships with state and federal legislators to benefit municipal utility customers.
"We are honored to present this award to Mayor Rosin in recognition of his commitment and dedication to the Kaukauna community and WPPI Energy," said Mike Peters, WPPI Energy president and chief executive officer. "Mayor Rosin's deep understanding of the electric utility industry, belief in the public power utility model, and strong support of both Kaukauna Utilities and WPPI Energy has contributed greatly to the success of the organizations he supports."
Mayor Rosin strongly supports utility goals and objectives that benefit customers and add value to the community. He is a strong advocate of Kaukauna Utilities' plan to construct a new hydroelectric generating plant and supports the joint effort between the utility and City of Kaukauna to develop and implement a plan to achieve energy independence. Mayor Rosin's advocacy efforts and actions continue to reinforce the benefits of public power and joint action in the Kaukauna community.