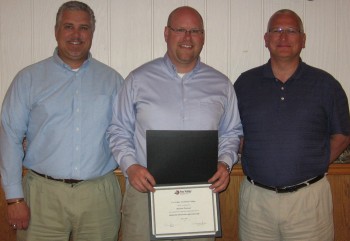 Kaukauna Utilities' employee Mike Preissner recently graduated from a four-year Industrial Electrician apprentice program offered through Fox Valley Technical College.
Mike is the son of Donald and Christine Preissner of Appleton and a 1993 graduate of Appleton East High School. After high school he attended Line Mechanic School at Northeastern Wisconsin Technical College in Green Bay and was hired by Kaukauna Utilities in 2004.
Preissner was one of 9 industrial electrician apprentices from the Fox Valley who completed the apprenticeship program and received diplomas on May 3, 2010 at the FVTC apprentice banquet at the Darboy Club. As an apprentice, Preissner completed 670 hours of related school training and 8,000 hours of on-the-job training to achieve his status as an industrial electrician.
"We congratulate Mike on the completion of his apprenticeship," said Kaukauna Utilities General Manager Jeff Feldt. "The invaluable training and knowledge he has received will help him perform highly skilled work on the utility's hydro and maintenance facilities."