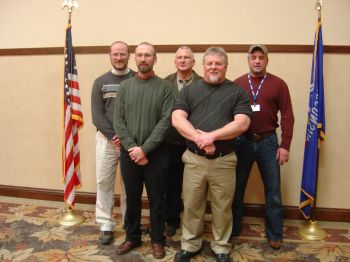 John Schroeder and Bill Adamietz from Kaukauna Utilities have recently completed a three-year Apprenticeship Program through Mid-State Technical College in Wisconsin Rapids and have earned the designation of Journeyman Metering Technician from the Wisconsin Bureau of Apprenticeship Standards.
The Journeyman Metering Technician Program provides the training required to allow the graduate to service, test, program and install all classifications of electric revenue metering. Over a three year time frame, the apprenticeship program involves 480 hours of classroom training at Mid State Technical College and over 6240 hours of on the job training by their employer.
Schroeder and Adamietz were among nine electric metering technicians recognized at a graduation ceremony held by the Municipal Electric Utilities of Wisconsin and the Wisconsin Rural Electric Cooperatives at their annual Joint Superintendents Conference in Stevens Point on January 8, 2009.