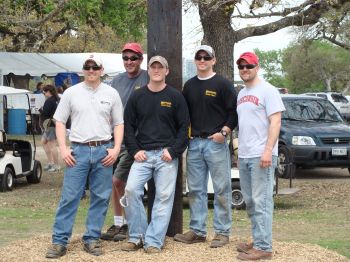 Five members of the Kaukauna Utilities line crew represented Kaukauna and the State of Wisconsin in competition at the Annual National American Public Power Association (APPA) Lineman's Rodeo in Austin, TX on Saturday, March 21, 2009.
The journeyman events consisted of two men climbing the pole while one man worked as a groundman. There were 48 teams competing from all over the United States. The events simulated working energized power lines off wood poles using safe practices and proper work procedures.
The KU team consisted of Josh Rohan, Tyler Leick, Neil Jack and alternate Mike Beining. They lost only 6 points out of a total of 500 which kept them from a top 10 finish.
In the apprentice competition, Tony Stobbe finished in the top 25%, placing 17th out of 66 apprentices. Tony lost 12 points out of a possible 500.
This is the third year KU linemen have competed in the national rodeo and is by far their best finish. The competition at these national events is intense as the teams are up against some of the largest municipal electric utilities in the country. In 2010, the KU crew will be looking for a finish in the top 10 of the APPA national journeyman competition in Omaha, NE.
This year the MEUW state lineman's rodeo competition will be hosted by Sturgeon Bay Utilities on September 12, 2009. Kaukauna Utilities will host the state competition for MEUW on September 11, 2010.