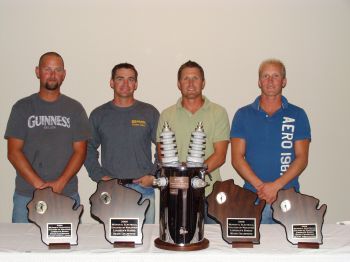 (Stoughton, WI.) – The Kaukauna Utilities line crew consisting of Josh Rohan and Tony Stobbe claimed the title of 2008 Grand Champions of the Third Annual Municipal Electric Utilities of Wisconsin (MEUW) Lineman's Rodeo in Stoughton, WI on Saturday, September 6, 2008. A second KU team entered in the competition included Rich Sorenson and Neil Jack.
Competing in five events throughout the day, the two man crew ended up with a total of 592 points out of a possible 600. Judges score the event for proper safety techniques as well as proper utility lineman practices to complete the challenge. The events ranged from a pole top rescue to repairing a downed electric line among others. Placing second was the team from Stoughton, while the third place team came from Oconomowoc Utilities, last year's host utility.
Eight two-man crews competed in the day-long event representing the public power utilities of Kaukauna (two teams), Sturgeon Bay, Sun Prairie and Wis. Rapids (combination team), Oconomowoc, Shawano, Hartford and Stoughton.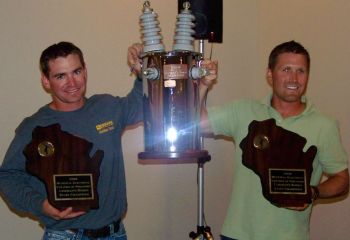 The 2009 MEUW Lineman's Rodeo will be hosted by Sturgeon Bay Utilities in September, 2009.
The opening ceremony consists of a member of each competing team on the pole on staggered sides. The U.S. flag is passed from one to the other and placed on top during the competition.
MEUW is the state trade association for Wisconsin's 82 community-owned electric utilities and has represented public power in Wisconsin since 1928.