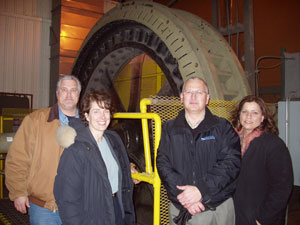 Kaukauna Utilities recently welcomed a visit from Commissioner Lauren Azar of the Public Service Commission – Wisconsin (PSC), the agency responsible for regulating Wisconsin public utilities.
On February 5, Azar met with representatives from Kaukauna Utilities, power supplier Wisconsin Public Power Inc. (WPPI), and industrial power customer Thilmany Papers. The group also toured the municipal utility's Old and New Badger hydroelectric generating facilities and the Island Street Peaking Plant.
"We were pleased to provide Commissioner Azar with a firsthand look at our Public Power utility and the community-owned resources that serve our customers," said Kaukauna Utilities General Manager Jeff Feldt.
Governor Jim Doyle appointed Lauren Azar Commissioner of the Public Service Commission in February 2007. Prior to her appointment, Azar worked extensively in the area of electric and water utilities, representing both ratepayers and utilities.
Pictured (Left–right): Kaukauna Utilities Generation Superintendent Mike Pederson, PSC Commissioner Lauren Azar, Kaukauna Utilities General Manager Jeff Feldt, and WPPI Vice President of External Affairs Nina Plaushin at the Kaukauna Utilities Old Badger Powerhouse