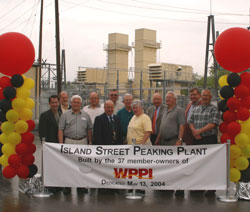 The member-owners of Wisconsin Public Power Inc. gathered in Kaukauna recently for the dedication of the joint action power company's newest generating resource.
The Island Street Peaking Plant will provide Kaukauna Utilities and the other 36 WPPI members with 52 megawatts of electricity during peak demand periods.
Local community leaders attended the May 13 ceremony at the site of the new generating unit scheduled for commissioning next month. Construction of the $25.5-million, gas-fired facility began last June.
"Heading into the summer season, the Island Street Peaking Plant will provide WPPI member utilities with a cost-effective option to meet the demand for electricity when wholesale prices spike," WPPI President and CEO Roy Thilly said.
The efficient, quick-starting unit can begin producing power within 10 minutes of being activated from WPPI's operations center in Sun Prairie.
Speakers at the dedication ceremony included state Sen. Robert Cowles, state Rep. Becky Weber, Kaukauna Mayor John Lambie and Commissioner Robert Garvin of the Public Service Commission.