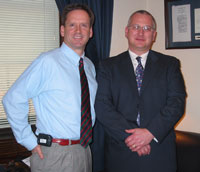 Kaukauna officials traveled to Washington, D.C., in early February to encourage Wisconsin's congressional delegation to support legislation that protects customers of community-owned utilities like Kaukauna Utilities.
Mayor John Lambie and General Manager Jeff Feldt joined more than 40 community leaders from Wisconsin and 700 officials from across the country at the American Public Power Association's annual legislative rally in the nation's capital, Feb. 1-3.
With a comprehensive energy bill pending on Capitol Hill, Lambie and Feldt urged Wisconsin's delegates to support initiatives that promote effective competition in wholesale electricity markets and ensure reliability to minimize the risk of massive regional system failures similar to what occurred on the East Coast last summer.
"Community-owned utilities like ours have a long history of providing customers with reliable and affordable electricity," Feldt said. "Any attempts at restructuring the electric industry must benefit all consumers and promote true competition."
They also voiced their support for the extension of federal production incentives that encourage the development of new renewable energy resources.
Feldt met with Rep. Mark Green and attended a ceremony honoring Rep. David Obey for his continued support of municipal electric utilities. Obey accepted the 2004 "Friend of Public Power Award" given by Kaukauna's power supplier, Wisconsin Public Power Inc. (WPPI), and the Municipal Electric Utilities of Wisconsin (MEUW).
Scheduled meetings with Senators Russ Feingold and Herb Kohl were canceled the day authorities closed three Senate office buildings on Capitol Hill following the discovery of the poison ricin in the mailroom of the Senate majority leader's office.
Kaukauna Utilities is an owner of WPPI, a Sun Prairie-based power company that supplies electricity and support services to 37 Wisconsin municipal utilities, and is a member of MEUW, an association representing the state's 82 public power providers.