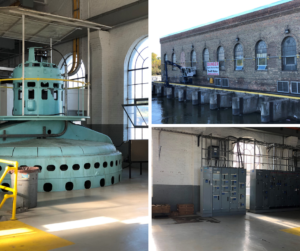 The Kimberly Hydro Plant was constructed in 1925- 1926. Kimberly Hydro houses (3) – vertical generators for a 2,170 kW combined output and is located along the Fox River in the Village of Kimberly.
Kimberly utilizes head pressure created by the Cedars Lock and Dam which is owned, operated, and maintained by the U.S. Corps of Engineers.
Quick facts
At ideal water conditions, the Kimberly Hydro Plant can produce enough energy to power almost 1,500 homes.
The powerhouse structure consists of an integral intake, turbine pit, draft tubes and tailrace, and contains three vertical shaft propeller-type turbine generating units.