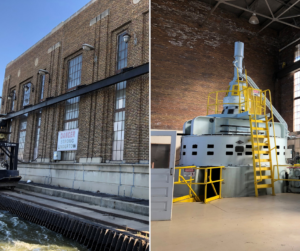 The Kaukauna City Hydro Plant was constructed along with one unit of the powerhouse in 1940. Due to the war and lack of materials, the second unit wasn't added until 1942.
The superstructure of the powerhouse is structural steel and brick and contains two vertical 3,300-HP, adjustable blade Kaplan turbines connected to (2) – 2,400 kW generators.
Water levels for the upstream pool are controlled by adjustment of the tainter gates on the dam and wicket gates on the turbines.
Quick Facts:
At ideal water conditions, Kaukauna City Hydro can produce enough energy to power almost 3,600 homes.
The spillways at the site consist of two tainter gates and ungated overflow sections. Approximately 2,260 feet of dam are designed as overflow sections.