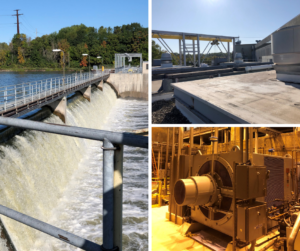 The Combined Locks Hydro Plant was reconstructed in 1987.
The powerhouse contains (2) – 3,100 kW horizontal shaft propeller type turbine generators.
Kaukauna Utilities owns the dam and the hydro unit, but river water levels are dictated by the Army Corps of Engineers
Quick Facts:
At ideal water conditions, Combined Locks Hydro plant can generate enough energy to power almost 5,100 homes.
In 1991, the overflow spillway and non-overflow spillway were strengthened. The tainter gates built in 1889 were replaced in 1998, the dam was reconstructed in 1912, and the overflow spillway was re-faced in the 1940's.