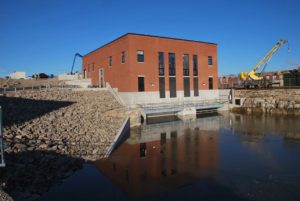 The newly constructed Badger Hydro Plant was completed in 2014.
The hydro powerhouse contains (2) – 3,500 kW horizontal shaft turbines.  The concrete structure is approximately 36 feet deep by 80 feet wide. The structure consists of an integral intake, turbine pit, draft tubes and tailrace.
Water levels for Badger Hydro are maintained by the adjacent Corps of Engineers' dam on the Fox River.
Quick Facts:
At ideal water conditions, Badger Hydro plant can generate enough energy to power almost 5,600 homes.
The Old Badger Plant was constructed in 1907 – 1908 and is now a retired and historic site. The New Badger Plant was retired in 2012 and demolished for the construction of the Badger Hydro Plant.
The City of Kaukauna acquired substantially all of the assets of the Green Bay and Mississippi Canal Company in 1974.