Electric Vehicle (EV) Basics 
Why Drive an Electric Vehicle?
Increasing numbers of people are discovering the benefits of driving electric vehicles including,  reduced gasoline use, lower fuel costs as electricity is less expensive per mile driven than gasoline or diesel fuel and reduced air emissions just to mention a few.
Ease of Ownership
There is a common misconception that by owning a plug-in electric vehicle, a driver must give up something in order to save money, help the local economy, and be more environmentally friendly. This is not the case.
The operation of a plug-in electric vehicle is a seamless transition from a traditional internal combustion engine vehicle, and is actually an improvement. Plug-in electric vehicles have tremendous performance, an essential element of owning a plug-in electric vehicle that is often overlooked when addressing the benefits.
EV drivers also have the luxury of charging at home, as opposed to making stops at a gas station.
Lower Fuel and Maintenance Costs
Fueling a plug-in electric vehicle is lower than a traditional internal combustion vehicle and the maintenance costs are significantly lower as well.
An EV has a small fraction of the number of moving parts in comparison to an internal combustion engine vehicle. The fewer parts there are in the vehicle, the less maintenance.
The only routine maintenance required on a plug-in electric vehicle is the occasional tire rotation. It requires no oil changes, transmission fluid, belts and hoses being replaced, for example.
Environmentally Friendly
You are doing the environment a favor by driving a plug-in electric vehicle. Plug-in electric vehicles are the only vehicles that are a clean source of transportation.
Kaukauna Utilities continues to exceed 30% of their energy portfolio from renewable energy, so you can be assured that by driving electric, you will greatly reduce emissions. How? As the electric grid continues to get cleaner and utilize more clean energy, emissions reductions increase when clean energy replaces gasoline and diesel in your car.
Incentives and Tax Credits for Electric Vehicles
Incentives and tax credits are available to EV buyers. A federal income tax credit of up to $7,500 is available. To learn more, visit the U.S. Department of Energy's incentive site.
Where can I recharge my EV?
Kaukauna Utilities offers free public charging stations at (4) locations
Kaukauna Utilities
Kaukauna Fire Department,
Kaukauna Municipal Building
Hydro Park in Kaukauna
Home Charging Station Rebate Available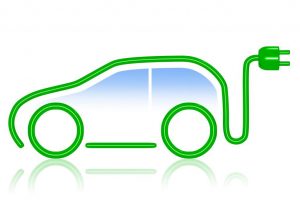 Level II charging requires a 240-volt outlet and a home charging system. A licensed electrician can tell you if your home is charging station ready.
Kaukauna Utilities offers up to $400 if you install a Level 2 charger at your home address
You may need additional wiring to install a dedicated circuit and 240-volt outlet.
Depending where you live, an electrical permit and inspection may be necessary for the electrical work.
Please call Energy Services at (920) 462-0251.
If you live in an apartment or condominium complex, please talk with your landlord or property management company about your options for a home charging station.
Download the EV Level II Charger Application
Please print application, complete it and mail or drop off at:
Kaukauna Utilities
777 Island St
Kaukauna, WI 54130
Geothermal HVAC for Residential Customers
Your own backyard has the potential to be an energy source for heating and cooling comfort. Outdoor air temperatures fluctuate throughout the year with the changing seasons. In contrast, ground temperatures about four to six feet below the Earth's surface remain relatively moderate and constant all year.
That's because the Earth absorbs heat energy from the sun. A geothermal system circulates a water-based solution through a buried loop system to take advantage of these constant temperatures.
A single piece of equipment has the ability to heat and cool your home, while providing some or all of your home's hot water as well.
Kaukauna Utilities realizes the benefits of in-ground geothermal HVAC systems and is offering a $300 incentive for a ground source Geothermal HVAC system for you residence.
Heating Cycle
During the heating cycle, the fluid circulates through the in ground loop extracting heat from the ground. The heat energy is transferred to the geothermal unit. The unit compresses the extracted heat to a high temperature and delivers it to your home through a normal duct system or radiant heat system.
Cooling Cycle
For cooling, the process is simply reversed. Because the earth is much cooler than the air temperatures on a hot day, the geothermal system removes heat from the home and deposits it into the ground. The fluid is cooled by the ground temperatures and returned to the unit for cooling your home.
Kaukauna Utilities is ready to help
Call Kaukauna Utilities Energy Services at (920) 462 0251 for details.
Download the Geothermal Incentive Application
Please print application, complete it and mail to:
Kaukauna Utilities
PO Box 1777
Kaukauna, WI 54130
or hand deliver to our front office at:
777 Island St.
Kaukauna, WI
Renewable Energy for Residential Customers
Focus on Energy also provides financial incentives and grants for eligible Wisconsin residents and businesses to install renewable energy systems, such as Photo Voltaic Solar (PV Solar) and Ground Source Heating and Cooling systems (Geothermal).  Incentives up to $4,000 or 12% of the total project costs for PV solar and up to $650 for the installation of a Ground Source Heat Pump, making renewable energy systems more affordable.
To find out more, visit Focus on Energy or call (800) 762-7077 or call Kaukauna Utilities Energy Services Representative, Steve Engebos at 462-0251