Commercial & Industrial
Commercial and Industrial businesses have tremendous potential to realize cost savings through improving the energy efficiency of their facilities without sacrificing productivity.
Whether you're upgrading equipment, renovating your facility, thinking about expanding or simply looking to reduce your energy costs, give us a call. We'll put our energy expertise to work for you to identify efficiency opportunities that will improve your bottom line.
Kaukauna Utility Programs
Focus on Energy Programs
Renewable Energy Competitive Incentive Program (RECIP)
Renewable Energy Incentive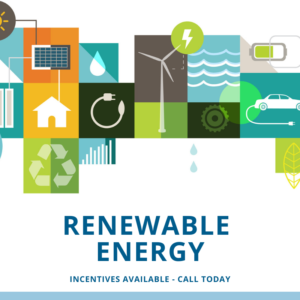 The Renewable Rewards program provides business customers with prescriptive and custom financial incentives for PV Solar electric and geothermal heat pump systems. Funding is managed through a reservation application system. The Renewable Energy Competitive Incentive Program (RECIP) provides business customers with financial incentives for cost effective renewable energy projects. Financial incentives are awarded through a competitive proposal process. Eligible technologies include biogas, biomass, geothermal, and PV solar. Click here for more information.
Feasibility study grants are available and designed to encourage renewable energy biogas projects at existing or new anaerobic digesters facilities.
Focus on Energy recommends a certified site assessment done on your business property. A statewide network of certified site assessors is available to answer questions about the technologies. Assessments will provide an unbiased, site-specific information on the renewable energy potential at your site. For more information, visit Focus on Energy or call (800) 762-7077 or contact Steve Engebos, Energy Services Representative at (920) 462-0251.