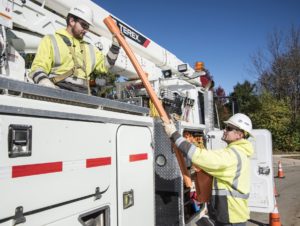 Electricity is a fundamental need of society today. Just about every person, family, home and business relies on the comfort of electricity to accomplish everyday tasks. Since the 1800s, power lines have been essential to transport electricity from generation plants through transmission lines on to distribution lines where it is routed to the final user. There have always been skilled workers needed to construct, operate and maintain these lines. These highly trained people have been come to known as "lineworkers."
What is the job all about?
By nature, linework offers many rewards. The work may be extremely challenging and sometimes physically demanding, but it is always interesting. Many lineworkers feel a great sense of pride in a job well done. Each day as a lineworker will bring diversity as the types of projects, jobs and work locations change frequently. There also is a strong camaraderie among lineworkers in this environment. Like police and firefighters, lineworkers dare to risk their lives for the betterment of their communities. Lineworkers perform their jobs outdoors and are subject to all types of weather conditions. Through these sometimes adverse conditions, they perform heroic tasks to keep the power on to homes and businesses.
Work is done both on overhead and underground lines. Overhead work is typically done at heights above the ground ranging from 25 feet to 200 feet. Lineworkers can expect to be needed at any hour to restore power after severe weather or even accidents. These special calls can require long hours of overtime. While linework has had a reputation of being hazardous, improved equipment and materials over the years have made the job very safe. For employees who develop strong safety habits, the hazard exposure is similar to that of other trades.
What about pay and benefits?
The pay for lineworkers is excellent given the amount of formal education required. Currently, technical program graduates begin with a starting wage of between $10 – $18 per hour. Within a few years, a lineworker can earn between $19 – $26 per hour, plus overtime. In 1999, the median annual earnings of a Wisconsin Technical College System graduate of the Electrical Power Distribution program was $40,700.
Benefits also can be excellent — typically including medical/dental insurance, pension plans, group life insurance and retirement fund programs.
What will you likely do as a lineworker?
Assemble and erect substations
Communicate technical information
Establish OSHA and customer safety requirements
Install underground electric system
Install and maintain insulators, transformers and other equipment
Install, maintain and repair overhead distribution lines
Install, repair and maintain underground electrical distribution systems
Operate electrical power distribution equipment
Set towers, poles and construct other devices to hold electrical wiring
String new wire or maintain old wire
Troubleshoot power distribution systems
What skills are important to the job?
Men or women who are interested in pursuing a career in linework should be:
Manually dexterous
In good physical condition
Willing to work at various heights in all types of weather conditions
Able to comprehend and follow written instructions
Safety conscious
What types of career opportunities are there?
Linework offers considerable opportunities for a rewarding career either with an electric utility, contractor or construction firm. Because qualified, trained workers are always in demand, there are significant career advancement opportunities. In addition, there is considerable potential for advancement into supervisory positions. Although lineworkers have typically been men, there is a growing trend toward more women entering the trade.
How do future opportunities look?
The outlook for highly skilled lineworkers in the future is excellent! Wisconsin is experiencing a shortage of trained lineworkers. There is a growing need for skilled lineworkers due to community and population growth as well as an increased demand in electric power. In addition, many of the existing power lines are in need of replacement and maintenance. Furthermore, companies are beginning to experience the retirement of the "baby boomer" generation and are in need of qualified personnel. All of these elements are generating the strong need for highly trained, qualified workers.
The Bureau of Labor Statistics (BLS) indicates that overall employment of lineworkers (in the electric, telephone and cable industries) is expected to grow at about 9% per year through 2006. These figures indicate approximately 11,300 new jobs will become available annually in this trade nationwide.
The purpose of the program is to encourage technical training for graduating students, to educate youth about careers in their own communities, to create an incentive for trained lineworkers to seek employment in WPPI Energy member municipal utilities, to provide WPPI Energy member municipal utilities with a pool of trained lineworkers and to inform customers about the benefits of owning a municipal utility.